We're excited to release our latest tool DocuSign Connection.

Our integration allows you to connect DocuSign with your marketing CRM (Infusionsoft/Keap, ActiveCampaign, Drip, HubSpot, and Ontraport.

For example, you can use the DocuSign Connection tool to auto-populate fields on your forms based on custom fields you select. You can store field responses from DocuSign back into your CRM. And you can apply tags when people are sent a document, open a document, sign a document, decline a document, or void a document.
If you're interested in seeing how this works, check out the info below.
Here's How it Works
The PlusThis DocuSign integration is simple and straightforward to setup.

After creating your DocuSign template and doc you need signed and returned, you'll be ready to start setting up the PlusThis integration.
Create Your DocuSign Signature Request Email
One of the first sections in the PlusThis DocuSign integrations is the Email Options section.
Here we'll set up the email template for requesting your client's signature.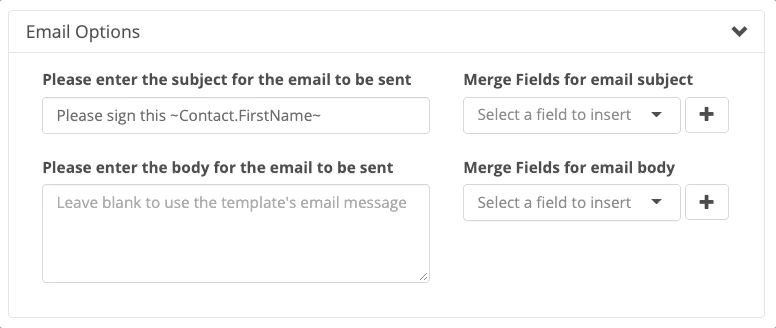 Auto-Populating DocuSign Fields
PlusThis gives you the flexibility to pick a custom field from your CRM and have that displayed in your DocuSign form.
For example, if you have a price you want to show on the form that could be different based on the client, you can pick your price custom field in your CRM here and that will auto populate the price field on the DocuSign form itself.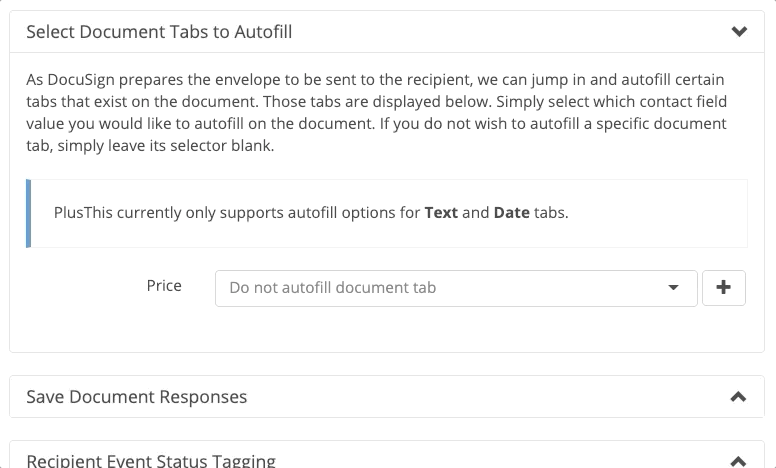 Store Document Responses
Next, you can tell PlusThis what custom fields you want to store the responses your clients fill out from the DocuSign form.
For example, maybe you want to track when a client signed your services agreement. You can easily see the DocuSign field for "date signed" and pick a field in your CRM for where you want that saved as well.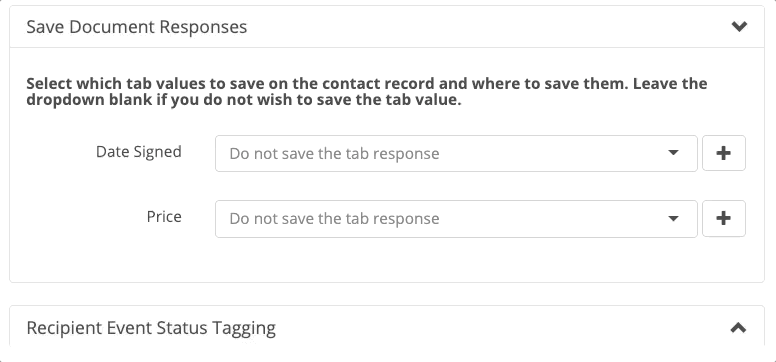 Set which tags you want to be applied throughout the document signing process
PlusThis gives you the option to apply tags based on when your document is sent, when it is opened when it is signed, when it is declined, and when it is voided.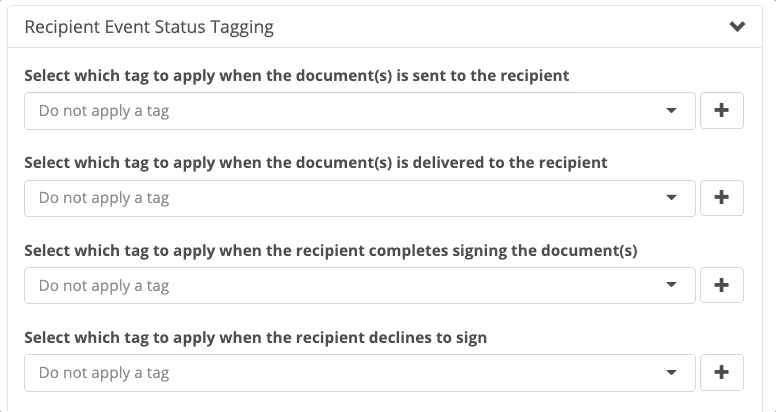 Watch a demo using Keap or Infusionsoft
Watch a demo using ActiveCampaign