Leads are such an important part of any business. Getting leads is the first step towards making sales. There are many different strategies when it comes to lead gen – some of them are pretty straightforward, while others are a bit more complicated.
PlusThis is committed to providing tools for entrepreneurs that are not only easy to implement, but also have the ability to make a massive impact. We've rounded up 5 of the best PlusThis tools for lead gen that you can implement in your business today!
Take advantage of Facebook's massive lead gen capabilities by connecting your CRM with Facebook's Lead Ads. Lead Ads are an ad type that allows you to collect leads on Facebook, without them ever having to leave Facebook. Facebook collects the lead's info directly, and then creates the lead in your CRM.

Set up is super simple.
First, PlusThis will connect with your Facebook account. PlusThis will be able to see any Facebook Lead Ads you've created so it can connect them with your CRM and trigger your automation.
Next, PlusThis will apply the tags you configure on all new leads that come from your Facebook Lead Triggers immediately. This way your leads don't have to wait for you to manually import or deliver the content they requested.
Once everything is set up, your leads will start being collected and tagged automatically!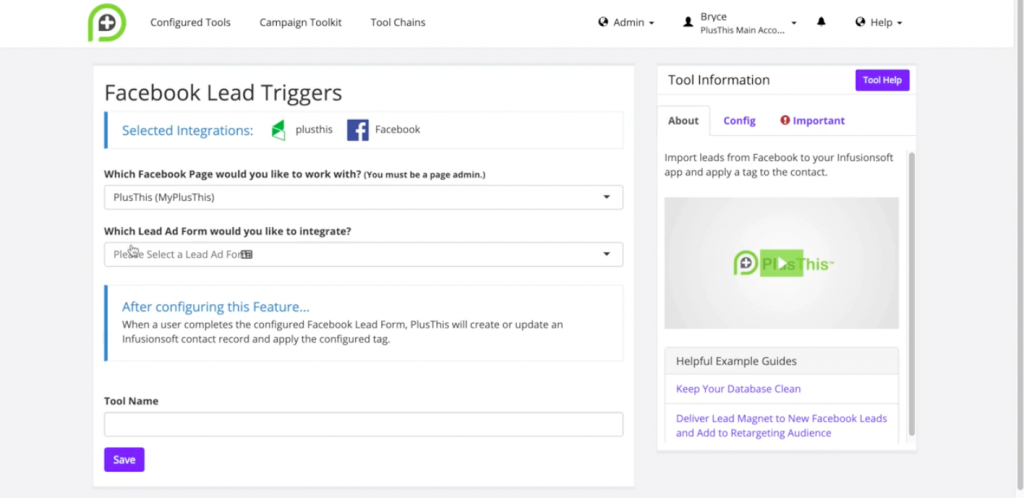 Keap webforms are not the most attractive. Using this tool you can customize the look of your forms to match your website's theme and create a more friendly user experience.
Not only are you able to customize your forms, but your forms will look just as good on a phone as they do on a webpage. Modern Forms transforms your existing Keap Webform into a mobile responsive form with modern design elements.
Here's how you can set it up:
Select your form from your existing list of Keap forms inside PlusThis, pick from a variety of modern styles provided by Boostrap and Bootswatch, then copy and paste the new embed code on your website, Keap landing page, or membership site.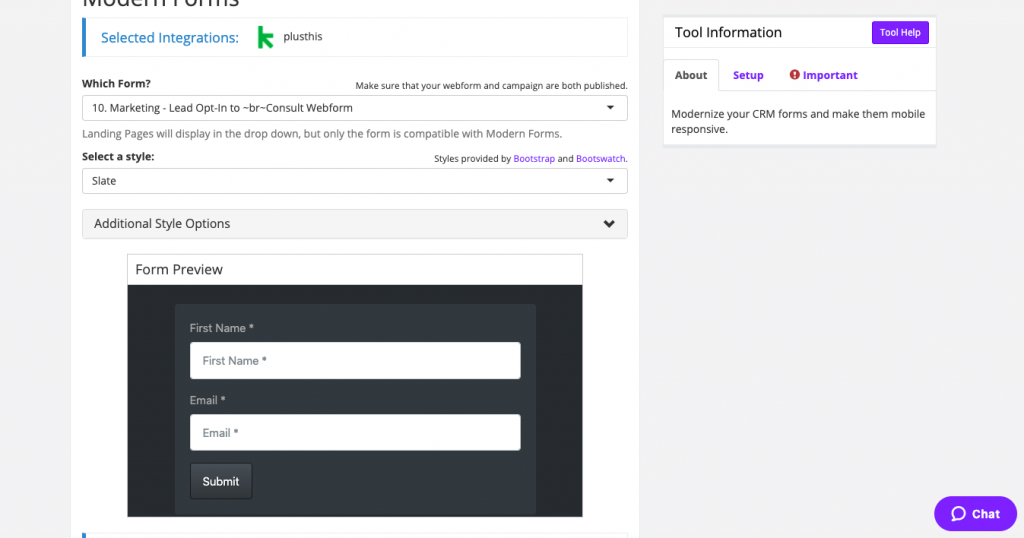 Have you ever wished you could follow up with the visitors who visited your website the longest? Well, now you can!
Track how long a visitor is on your web page and tag them accordingly in your CRM system. Choose how you want to follow up based on how long a contact visited your web page. For example, you may choose to follow up differently with someone who visited your page for over a minute than you would with someone who visited for 10 seconds.
Here's how the set up goes:
First, you would configure your tags. Choose what tag you'd like to apply to the contact when they've been on your webpage for a specified amount of time. Choose whether to apply the tag after a certain number of seconds have passed or immediately when they land on your page.
Next, you would place the PlusThis HTML code on your web page to start tracking visitors. Finally, you would place the PlusThis provided URL in your web campaigns, so contacts who click on the link will be tracked and tagged accordingly.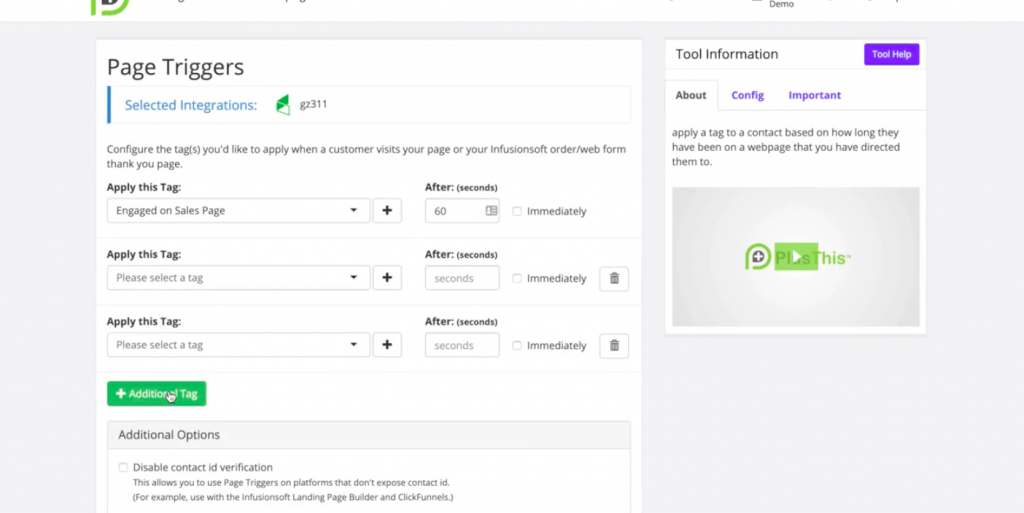 If you've wanted an easy way to be able to tell which of your pages are converting the best, keep reading.
With the Split Test Pages tool, you can choose different pages to test to see which page has the highest conversion. You can determine whether you want the goal to be based on conversions or time, and once your goal is met, all traffic will be redirected to the winning page.
Here's how you would set it up:
First, you would identify the tags for your pages by choosing which tags you want to have applied when someone visits your pages.
Next, you would define your "success" tags. Success tags are the unique tags that indicate conversion/success, and whether you'd like to choose a winner on a static date/time, or after a certain number of successful conversions.
Lastly, you would run your split test through an http post, and view the split test report in your PlusThis app.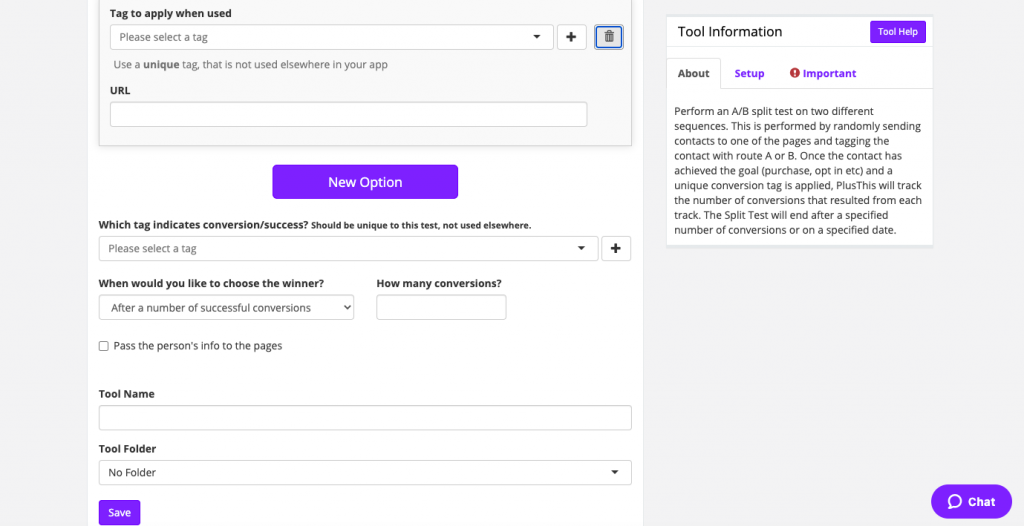 With SMS becoming such an easy way of communicating, you can now use PlusThis SMS to create text to opt-in campaigns. Make it easy to capture leads from stage, start text clubs and deliver exclusive content through the fastest growing channel in business…SMS.
Here's what the set up looks like:
First, you would write up your text messages in our text builder. Add images, GIFs and links as you like. See the number of characters your texts will use up.
Next, you could create rules so you can do things like send a PDF if leads text you a phone number, or reply back with a reschedule link if they answer "No" to your consultation confirmation. The possibilities are unlimited.
Finally, you would choose how you want to launch your SMS sequence. You could start it when someone texts a keyword to your number. Or, you could initiate it with an http post or webhook from your preferred marketing platform.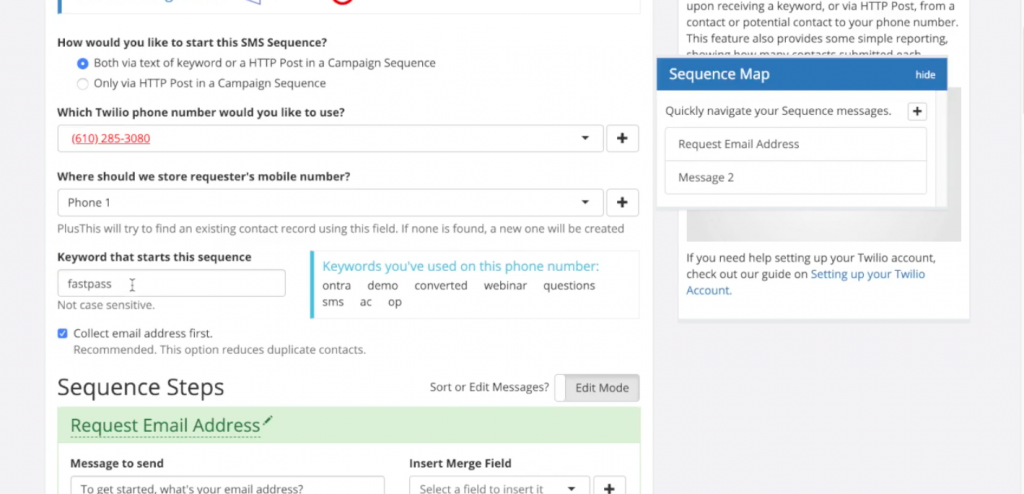 To start using PlusThis tools to help with your lead gen, click here to start your 30-day FREE trial!