I've used survey's in my marketing from the beginning, but a couple things always frustrated me as a marketer.
First, it was hard to get people to take a survey. Getting someone to click a link to voluntarily take a survey is challenging. It's easy to see why a 2% response rate is fairly typical.
Secondly, once I was using Infusionsoft, I really wanted my survey's to be able to tag contact's based on the answers they gave.
For example, if I sent out a customer satisfaction survey, I'd love it if my respondents who scored us a 9 or a 10 got some kind of follow-up encouraging them to leave a testimonial, while those who scored us a 1-4 would get follow-up allowing them to elaborate on why they gave us a poor rating so we could fix it.
Well, today's feature was built exactly for these kinds of scenarios.
Simple Email Survey lets you create and embed a simple one question survey directly inside of your Infusionsoft emails. You can set what scores get what tags as well as what pages to redirect them to.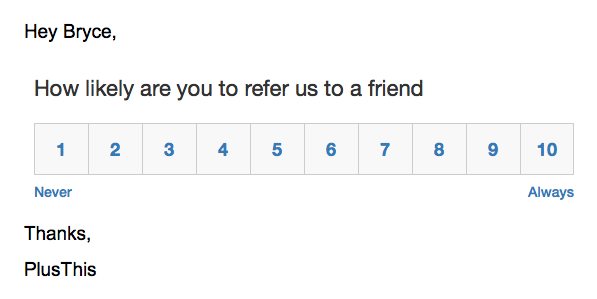 Currently, Simple Email Survey allows you to use two types of survey questions Yes/No and 1-10 Scale.
But what if I want to ask more than one question?
Great question. We've found a single question is enough to get a contact engaged. From there, you can redirect them to a full survey. This is helpful since you may want separate surveys for those who score your first question with a no or low score vs a survey aimed for those who responded with a yes or high score.
We're excited to see how you apply this feature in your marketing and business.
If you have any ideas or suggestions for how you'd use this feature in your business, we'd love to hear them in the comments below.
Also, we've released several new features in the last couple weeks. Be sure to check out our features page to see what has been added and how you can start using them in your business.