Update: While we've gotten some great feedback on the tool, unfortunately, it has been canceled indefinitely due to Keap rules that prevent us from successfully providing the tool.
---
We are thrilled by the response we saw for Proxy Mailer already!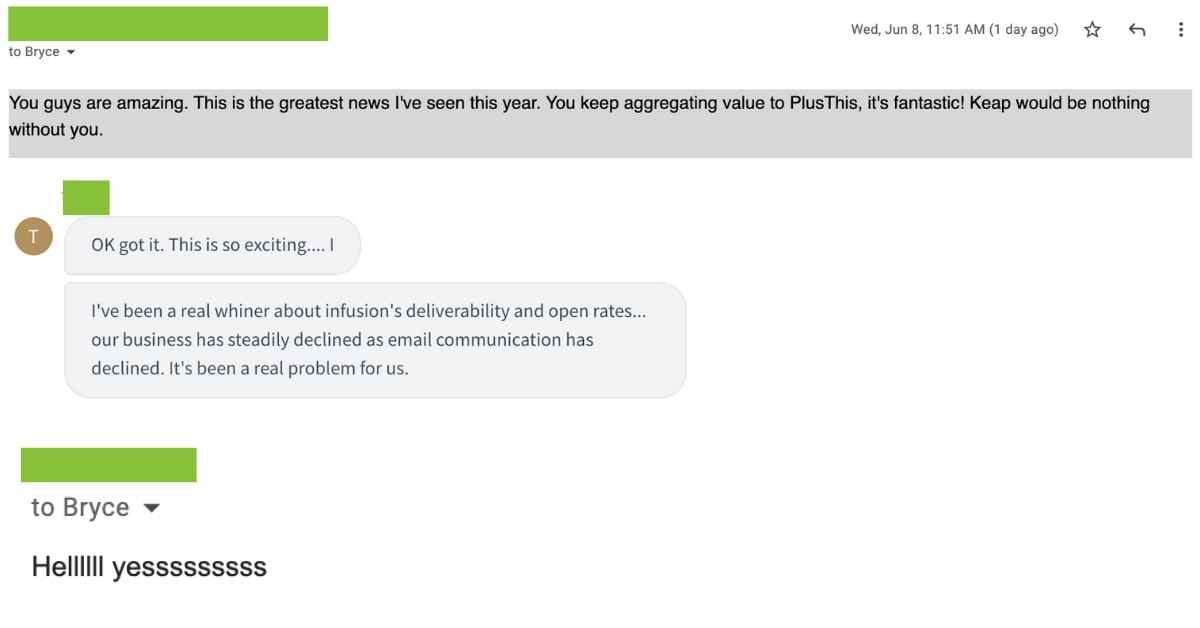 We knew people would have questions, so we've compiled the most frequently asked questions and shared them here. We'll also update these and share them on our Knowledge Base in the future.
The most frequently asked questions we get for Proxy Mailer
Does Proxy Mailer cost extra?
No, Proxy Mailer is a tool that's included with any of our existing plans. Just make sure you have a plan that supports the number of "tool runs" you expect to use. For example, if you plan to use this tool to send 20,000 emails a month, you'll want to be on a Standard plan (up to 50,000 tool runs) or higher. You can see the different pricing thresholds here.
Does this work for all Keap plans?
We highly recommend you use this tool only if you are on Keap Max Classic. Keap Max Classic has the ability for you to adjust your email engagement settings so they don't get marked as "Unengaged Unmarketable" while using Proxy Mailer.

If you are on another version of Keap, after 4 months your contact's primary email addresses will be marked as "Unengaged Unmarketable", and you will lose the ability to communicate with those contacts permanently.
We show you how to adjust these settings with Keap Max Classic in the tool setup inside PlusThis.
Who would benefit most from this tool?
This tool is a scalpel, not a net. So the ideal user will be someone who has confirmed contacts that are bouncing or not getting your emails through Keap.

Sometimes this can happen if you're in an industry like finance, that can have trouble getting through. Or if you have transactional emails that are getting blocked for being marketing.

Using your own private IP will allow you to send emails using your own private email deliverability reputation. That may help you in some situations but is not a guaranteed silver bullet.
The best practices for email deliverability will apply even more so if you are going to use Proxy Mailer. Since you are emailing on your own reputation, bad practices will sink your deliverability even faster than if you were doing the same bad habits but on a shared IP.
Would I need another service to make this work?
PlusThis is serving as a proxy to create a virtual email to be used by your private IP. The easiest way to get a private IP to send emails through will be Mailgun. We highly recommend going this route. Mailgun has a Foundation 100k plan for $85/mo that can send up to 100,000 emails a month, AND provides a dedicated private IP address. The $35/mo plan uses Mailgun's shared email servers and is not something we recommend as it is the same as Keap's setup.
If you're technical and understand how to set up your own private SMTP server, you can use this as an option as well. There are a few gotcha's and caveats to using SMTP because it lacks the API and Webhooks that Mailgun is able to offer.

Since this is a more technical tool, most of the people using this tool will likely have IT and dev resources who are savvy enough to implement a service like this and understand the reasons behind why it could benefit them.
Hey, does Keap know you are doing this?
Yes, we're actually in touch with Rich Sharpe, the PM over Email Deliverability, and his team making sure we iron out any compliance issues and monitoring how the tool is impacting users on both sides.
PlusThis wants to provide tools that help Keap users and this in no way is meant to compete with the shared ips Keap uses to send emails. Having an option to send from your own private IP will be another tool in Keap's arsenal to help people who may be in a specific situation where it makes sense to use this. We'd rather they have this option available, than call it quits with Keap and find their deliverability still haunting them on the next CRM they try.
PlusThis has been getting great deliverability using Keap and will continue staying on a shared email server for the foreseeable future.
What kind of email capacity and speed can I expect?
PlusThis has a unique system of queues and lightning fast response times. What this means is that we can receive hundreds of thousands of requests and respond immediately.
When we receive a Proxy Mailer email, we actually send the data to a queue to be processed. When the email comes up in the queue, we perform a couple API requests to load contact information, repackage the email for transport, and send it off. This entire process can take anywhere from a couple of seconds to a couple of minutes depending on multiple factors: the current queue size, your PlusThis account status, throttling issues, and server/api response times.
How do unsubscribes work?
Following our setup guide will help you greatly here.
By default, your campaign emails will likely have an "Unsubscribe" link or button that takes the contact to Keap's opt-out form, and the contact's email address is opted out.
We do not modify any of the email content, so unsubscribe links are fully preserved and the contact will still be able to opt-out. However, when you are using the Proxy Mailer tool, the contact's Virtual Email Address is where Keap is sending the email to, and it is the Virtual Email Address that is opting out, not the primary email address.
To solve this issue, as part of the tool setup, we show you how to create an automated task inside Keap to notify the Proxy Mailer tool whenever a contact's Virtual Email Address opts out and unsubscribes. When we receive the notification, we will opt-out the primary address as well.
Will my links and other Keap automation tools work if I use Proxy Mailer?
Yes, we pass the headings and data from Keap so all your links and automation work as expected. No additional work required.
Who can I talk to about email deliverability if I suspect we're having problems there and what I should do as next steps?
We personally consult with Evan and Adrian over at Email Smart when it comes to any email deliverability situations.

If you're running email marketing but haven't worked with a professional on your deliverability plan, I highly recommend their team. They can also recommend the right tools for monitoring, maintaining and improving your email deliverability.
How Do I Get Started?
Here's what to expect as you get started with PlusThis.
First, you'll sign up for a free 30-day trial so you can access the tools.
Second, you'll pick a time for your free implementation call. Here we'll hop on a call and help get your tools set up with you in your own app and with Keap.
Third, after we've got you setup, we'll be a partner you can leverage as you grow your business. We'll keep adding tools to our kit and helping you implement the features you need to scale. If you need us, we're just a chat, call, or ticket away.