Sending SMS messages is great since it's so easy and direct with the customers. But how do you track engagement with those messages?
Easy. Just add a tool within Send SMS Messages and boom – track who's clicking what in your text messages.
With Action Links, automation is triggered when a lead or customer clicks a specific link. If you add an action link within your SMS message, you can easily track which recipients are actually clicking what you're sending.
Let's go through how to set up Action Links, and input the link into our Send SMS Message configuration.
Getting Started
Step 1: Configure Action Links
This tool is SUPER simple to set up.
All that's needed is the desired link, a fallback link if no contact record is found, and which tags you'd like to be applied when they do click the link.
Keep in mind that this tool also works well with triggering an API goal, and the option to select this is also available. But for this scenario, we want to tag the customers that click the link to our offer page.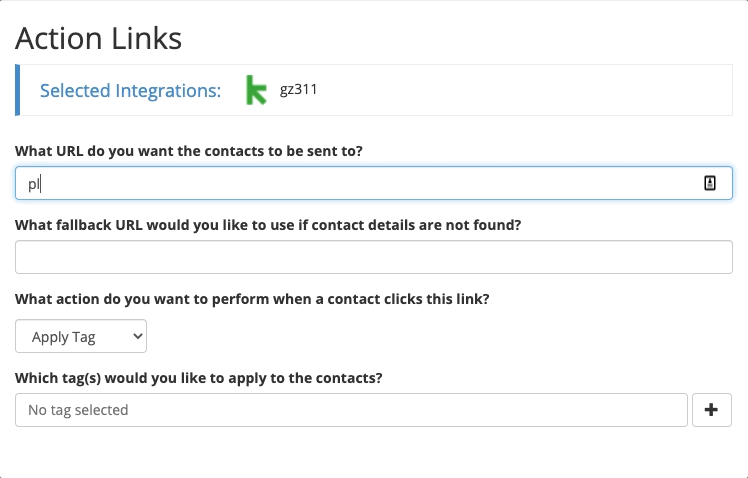 And then we give the tool a name, and save it. Really – that's all you have to do to configure Action Links. Easy, right?
Once saved, we receive multiple ways to utilize the tool. But we specifically receive a Tool URL to include in PlusThis SMS features – that's the link we want.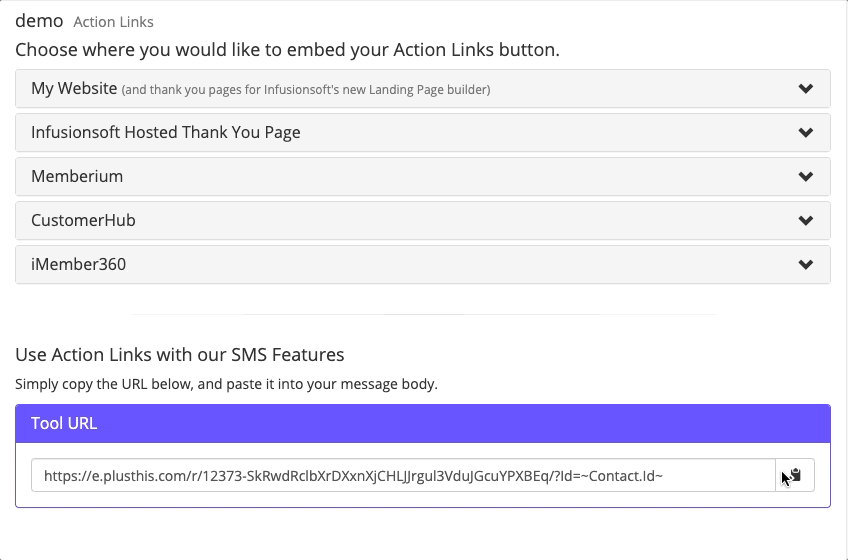 Step 2: Insert Into Send SMS Messages
Like mentioned, Action Links can be used for both SMS features (SMS Sequences & Send SMS Messages) but let's just say for this strategy, we want to surprise our users with the one time offer, and we don't need them to reply – so we can use PlusThis' one way SMS tool.
Let's start the configuration of Send SMS Messages.
Once we've established the basic information required to send a SMS, we'll craft the message that is to be sent. This is where our Action Link will come in.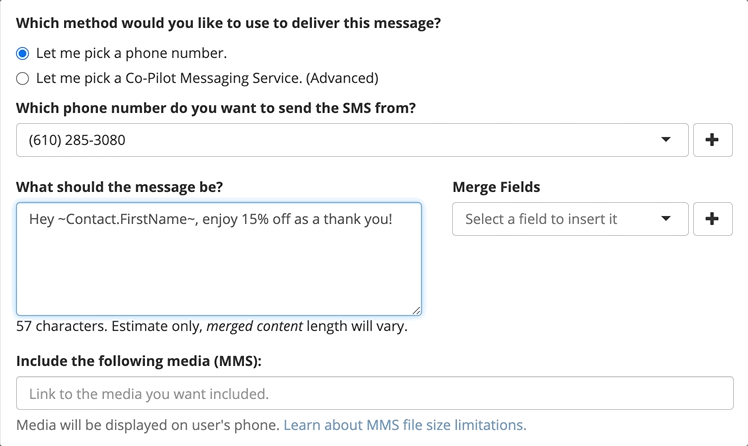 That's really all you have to do, paste the link directly in the body of the message and finish configuration.
Once saved, we receive the tool URL to input into our campaign, and boom – automated sms messages with trackable links to see who's engaging with your text.
Step 3: Track The Clicks
By tracking who's clicking your links, you're given the information to base follow-up, future offers, and more in an effort to better apply to your contacts.
Seeing who's clicking the link is simple.
Within your configured tools, select the menu button on the right and click "view tool runs" to see which contacts are triggering the tool when they click the link.
Within the tool configurations, apply the appropriate tags for when they click the link, and when they receive the SMS message. That way – you can customize your campaign based on certain tagging requirements based on the tools.
Watch The Tools In Action
Curious to try out some of these tools yourself? PlusThis has a FREE 30-day trial risk free.
You can login, explore the toolkit, chat with our team, and start using the tools immediately. If you don't get enough value, simply cancel within 30-days. Pick a plan here.