We're so excited to announce some updates we've been working on with our Acuity Connection tool.
The current tool allows you to connect your Acuity account with your current marketing CRM (Infusionsoft/Keap, ActiveCampaign, Drip, HubSpot, and Ontraport) and automate follow up based on a number of requirements.
The updates that have been made are Infusionsoft specific, and will make the scheduling/follow up process even easier by implementing new appointment types, and even more connections between Acuity and Infusionsoft.
Here's What's New
1. Mapping fields from Acuity into Infusionsoft now supports dynamic fields from Acuity Intake Forms
Simplify the process of mapping fields between Acuity and Infusionsoft with the dynamic fields supplied from Acuity Intake Forms
2. New appointment type called "Fallback" which is used if there isn't a tool configured for a specific appointment type
If you have 2 appointment types, and you create a tool in PlusThis using the Fallback appointment, and another tool with a specific appointment type, any appointment that is made that is not the specific appointment type, the Fallback tool will get to work
3. You can now sync the appointments from Acuity into Appointments in Infusionsoft
You're able to map Acuity Calendars to Infusionsoft users. So when an appointment is scheduled, rescheduled, or canceled in Acuity, PlusThis will automatically run the tool as directed, and then use the integration settings (instructions below) to also create an appointment for the appropriate user within Infusionsoft.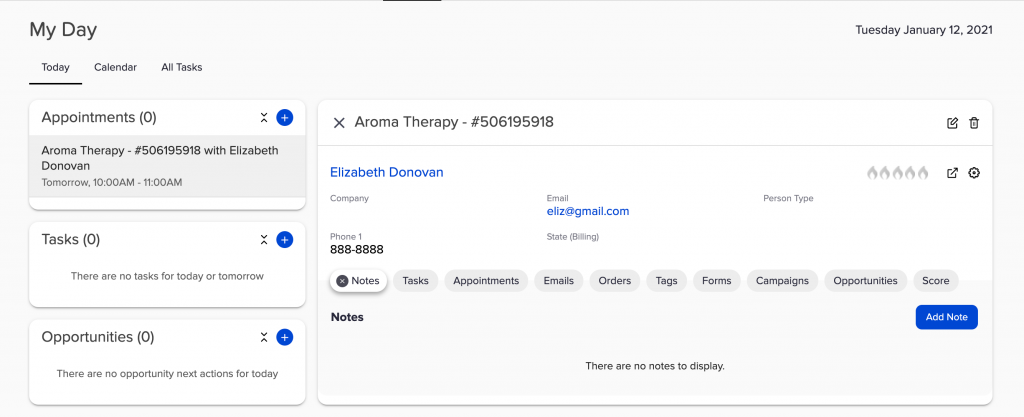 Now, when you enter "My Day" in Infusionsoft,
your current appointments will appear in one place
4. You now have the ability to sync Acuity Orders with Infusionsoft orders
When an order is completed in Acuity – PlusThis will automatically add that order's information as an order in Infusionsoft for the appropriate contact and it will be marked correctly
Here's How To Set It Up
Start by managing your account and selecting your "Account Integrations" from the left menu.
From there, if you haven't already added your Acuity account, you can add it here. Then, click on "Manage" next to your Acuity integration.

In the "Map Acuity Calendars to your CRM Users" section, you can map each Acuity calendar to an Infusionsoft user. We recommend leaving the user field empty to prevent PlusThis from synchronizing an Acuity calendar.
If you'd prefer to sync your calendar, select yourself as the user to connect your Infusionsoft and Acuity accounts.
Then, use the "Synchronize orders from Acuity to Infusionsoft" option to toggle order synchronization.

Lastly, save the changes.

See the updates in action in the demo below.
Watch a demo using Infusionsoft/Keap