You have a million things on your plate like me.
Getting your head wrapped around creating new ads to generate leads feels OVERWHELMING to a lot of people. I've created many ads and I still feel overwhelmed when I know I need to create new ones.
But, this week I created 8 ads in 1 hour and they have already generated positive ROI leads for me…less than a week later.
Here's what I did.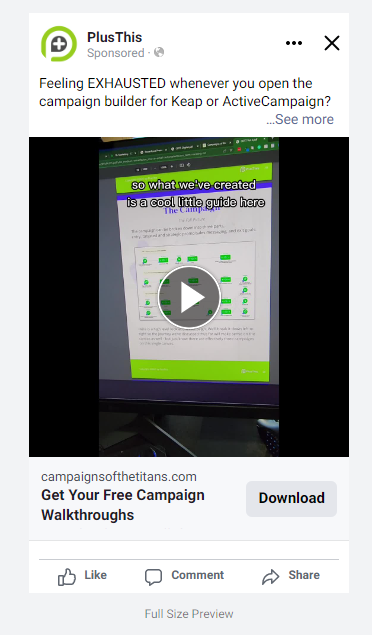 1. Write down four hooks
I really have to thank the rise of TikTok and short-form social media for really perfecting the art of hooks.
TikTok is exploding because they "get" people better than other social media right now. They know you have 2 seconds to get someone's attention today. Every video on their platform gets right to the point in the first moments.
And your video ads should be the same way.
Remember, people are on Facebook, Instagram, YouTube, TikTok to watch content they were seeking out to educate, entertain, or amuse them.
So make your ads blend in with that content by making it feel similar to the content they are already there to watch. And that all starts with your hook.
For our ads we used the following.
Hook 1: If you're a Keap or ActiveCampaign user you need to check this out!
Hook 2: You know that feeling when you open up Keap or ActiveCampaign and you're looking at that blank campaign builder page? Wouldn't it be nice if you could copy the pros version of their webinar, sales, membership, or other campaigns? All with their permission of course.
Hook 3: You know there are some big names using the same Keap and ActiveCampaign tools you use. Frank Kern, Grant Cardone, Ryan Lavesque, Amy Porterfield. So why do these experts have more success than 99% of the other users on the same platform?

Well, we've worked with each of these and more and we have been collecting campaigns from Titans like these for years so our users can see what's working out there.
Hook 4: When we started PlusThis over 10 years ago, Frank Kern was one of our early adopters. He helped shape some of the tools that have gone on to help thousands of Keap and ActiveCampaign users today.

Frank's still using our tools for his latest trainings and evergreen campaigns, but what's even cooler is that he's opened up the door and allowed us to show one of his campaigns in a little pdf we call Campaigns of the Titans.
Quick warning! Don't slow down and spend hours trying to perfect your hook. The important thing at this stage is to just have a variety of hooks to TEST in your ads.
If you need formulas for proven hooks, I recommend this google sheet of 50 hooks from Maxwell Finn.
2. Write a 50-second script
For this particular strategy, I like to aim for a one-minute video ad.
When we are done, we'll have four hooks that run into the meat of the video you'll script out here.
Whether you read the script word for word is not important. Writing a script helps you avoid rambling and keeps your message succinct and to the point.
Here's what I wrote out for our recent batch of Lead Ads.
Let me show you Campaigns of the Titans Collection.

This is a free collection of three volumes of Keap and ActiveCampaign campaigns.

Some of the contributors include Frank Kern, Ryan Deiss, Brad Martineau, and more.
Inside you'll find campaigns for sales funnels, webinars, membership sites, upsells, Facebook ads, and more.
Let's look at one really quick, to show you how they flow.
Every campaign walkthrough has an overview to set the stage, then we show what it looks like from a user's perspective. And finally, you'll see everything you need if you want to implement a similar campaign.
If you want access to it, simply hit the download button below.
3. Record your videos on your phone
Remember what I said about making your ads blend in with the rest of the content your ads will be appearing with?
Most of the time, do you see videos on Facebook, Instagram, or TikTok recorded in a studio or on someone's phone?
Phone right?
There's a time and place for high-quality ads or video content, but for basic lead gen, that can be overkill…especially for a small business.
For this lead gen ad, I wanted people to download our lead magnet, Campaigns of the Titans.
So, I recorded my screen as I showed the pdf's they would get. I used the hooks I noted down and the rest of the video just flowed from there.
Some people will record the hooks separate from the main content and edit it back in post. Others prefer to just do the full ad in one take. Either option works fine for this strategy.
I did add one element of "professionalism" to these specific ads, by using an actual mic to record the audio. Nothing fancy, just something like this you can get for $30 on Amazon.
4. Edit your videos with free software…even on your phone
Since I recorded these videos on my phone, I needed a way to edit them briefly, mostly to cut off the beginning and ends, and add in captions.
I personally used CapCut to do my editing on my phone. It's free and I like their built-in caption creator. If you prefer using your computer, there are plenty of options, but Davinci's Resolve and Canva are good free options.
For dimensions, I used a 1:1 and 1920×1080 resolution.
Here is the result.
5. Create your Lead Ad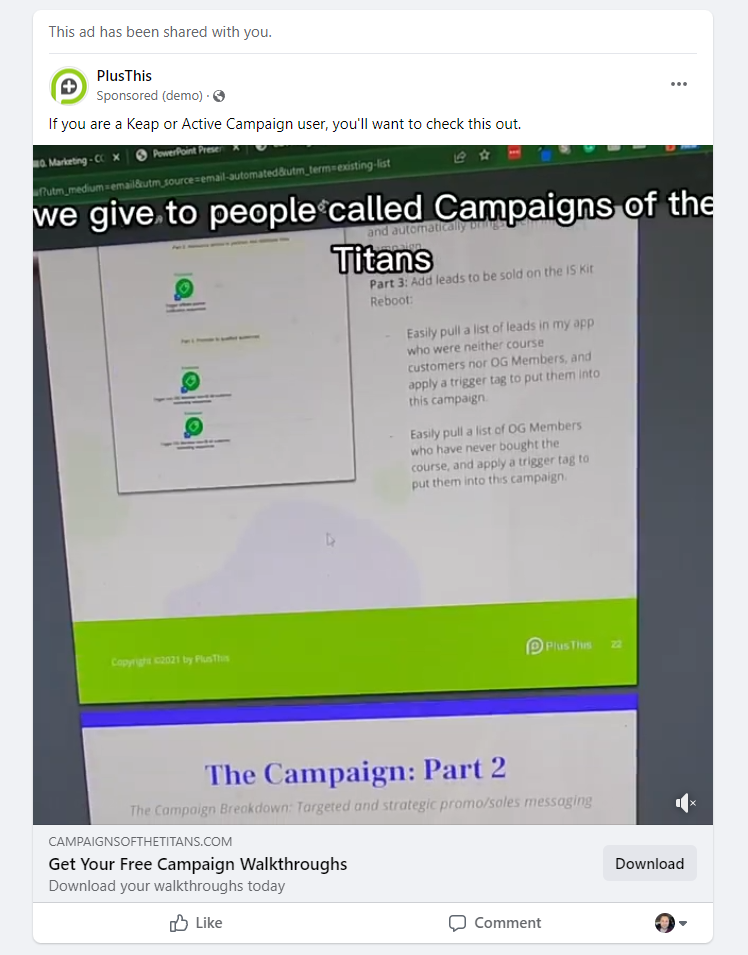 Once you have your video you are ready to create your Facebook Lead ad. These are basically a type of ad on Facebook or Instagram that allows you to collect leads directly from the ad itself.

When someone clicks the call to action button, "download" in this case, it opens a form for them to fill out to get your pdf, video training, or whatever lead magnet you are offering.
Setting up this type of ad is easy to do. There are many guides you can Google, but here's one I liked.
6. Connect your Lead Ad to Keap or ActiveCampaign with PlusThis
The last step I took to make sure the leads got their content was to connect the Lead Ad to our CRM.
Using PlusThis made this easy.
The Campaign
To deliver the lead magnet you are offering, you will need a simple campaign to deliver your guide, pdf, video, or other resources.
To help you with this part, we have added the Lead Ad Lead Magnet Delivery campaign to our campaign library here.
Here is a quick video overview of the campaign and how to implement the tool for Keap:
Here is a quick video overview of the campaign and how to implement the tool for ActiveCampaign:
What happens next?
The idea for this ad is to now watch which hook performs the best. Once we know which one is working, we will dedicate our ad spend to that version and iterate from there.
What if I need help?
If you need help setting up a Lead Ad with Facebook, we're always happy to hop on a free implementation call.
You can pick a time to schedule here.
If you would like to see a demo of PlusThis, you can schedule a call here.